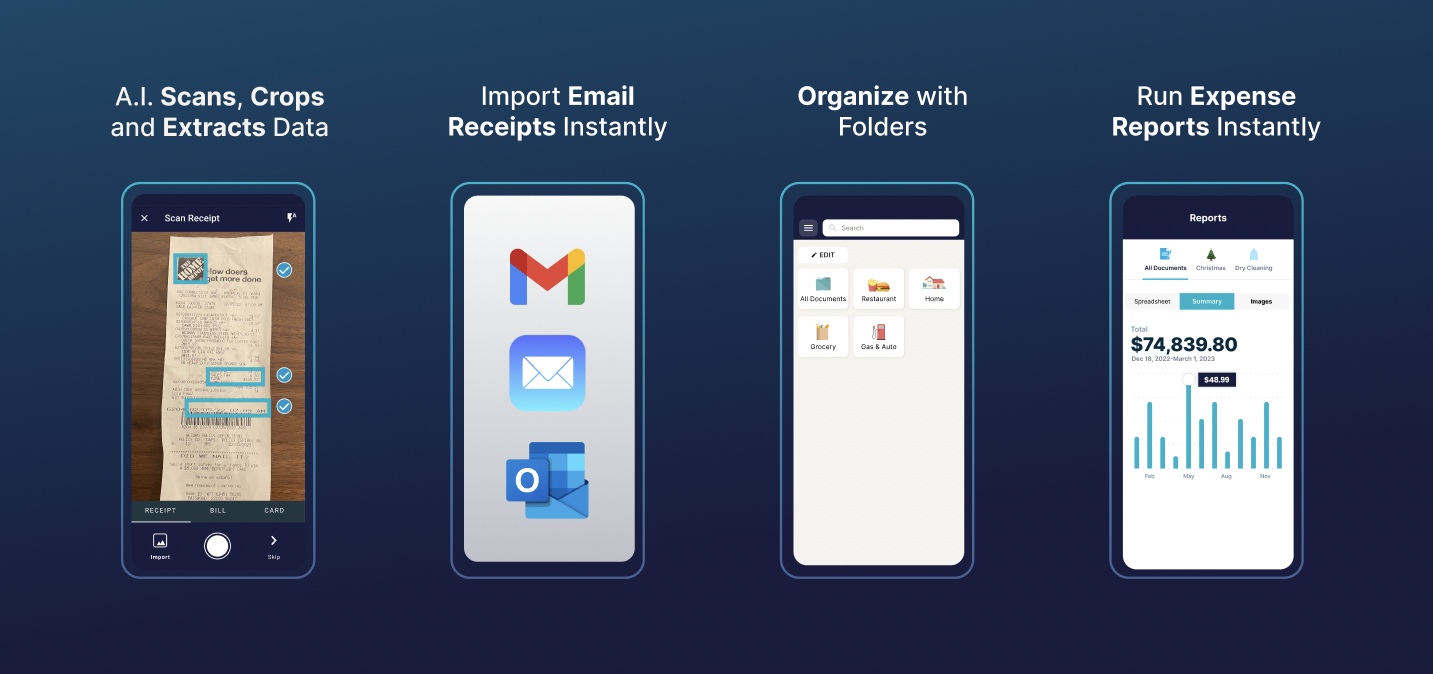 Are you tired of drowning in a sea of paper receipts and struggling to keep track of your expenses? SimplyWise is the #1 document scanning app here to solve your cluttering and expense management woes. In this article, we walk through how SimplyWise works and show you how it can revolutionize the way you manage your receipts and finances.
Bills, Receipts, and Paperwork, all in one place
Never lose track of your important documents again
Digitize and Organize Receipts with Ease
SimplyWise streamlines the process of digitizing and organizing your receipts. Here's how it works:
Scan: Open the SimplyWise app on your smartphone or other device and use the built-in camera to scan your paper receipts and other documents. The app uses advanced OCR (Optical Character Recognition) technology to capture and extract relevant information from the receipt, such as the date, merchant name, and amount.
Automatic Extraction: SimplyWise analyzes scanned receipts and automatically extracts the important details. This eliminates the need for manual data entry and saves you valuable time and effort. Say goodbye to the tedious task of manually recording every receipt!
Digital Storage: Once the receipt details are extracted, SimplyWise securely stores the digital copy of the receipt in the app. This cloud-based storage ensures that your receipts are accessible anytime, anywhere, and are safe from damage or loss – this also means that none of these documents are taking up valuable storage space on your phone. This is especially important if you're saving receipts for taxes!
Organize and Categorize: SimplyWise takes it a step further by automatically categorizing your receipts based on the merchant and expense type. This makes it easy to track and analyze your expenses, giving you a clear picture of where your money is going.
Search and Retrieval: With SimplyWise, finding a receipt when you need it (like if the IRS requires receipts) is a breeze. You can use the search bar to find a receipt based on any word on the paper (or paperless) receipt. For example, to locate your Walmart receipt you can type "Walmart" into the search bar. Or, you could enter the date of the transaction, the total amount of the transaction, one of the line items listed on that transaction, or even the last 4 digits of the card you used to pay. No more rummaging through stacks of paper receipts or frantically searching for that one elusive receipt!
Other Uses:  SimplyWise is also equipped with multiple integrations – such as Quickbooks, Amazon, PayPal, and Walmart (to name a few), as well as other tools like a Mileage Tracker which is an essential for those who need to calculate mileage reimbursement.
SimplyWise has a desktop version as well. From this access you can batch upload scanned documents you may have stored on your computer, saving you time and increasing efficiency. 
Bills, Receipts, and Paperwork, all in one place
Never lose track of your important documents again
Comprehensive Expense Insights and Reporting
SimplyWise goes beyond just digitizing and organizing your documents. It offers a range of features that provide valuable insights and make expense management a breeze…
Expense Tracking: SimplyWise tracks your expenses in real-time, allowing you to monitor your spending habits and identify areas where you can cut costs. The app provides a clear overview of your expenses, giving you a holistic view of your financial health and habits. Connect your Quickbooks and Amazon accounts for automated importing of your orders – and use the Reconciliation feature to be sure your SimplyWise expenses align with what you see on your bank statement.
Categorical Analysis: With SimplyWise, you can instantly categorize your expenses into different folders, such as Groceries, Meals, Gas & Auto, and more. And you can always  add your own customized folders for further personalization! This allows you to see how much you're spending in each category, helping you make informed decisions that align with your financial goals.
Reporting and Analytics: SimplyWise generates comprehensive and customizable expense reports. These reports provide a deeper understanding of your spending patterns, enabling you to identify trends and take proactive steps towards better financial management. 

You can watch one of the developers of the SimplyWise app walk through how to create one of these reports here!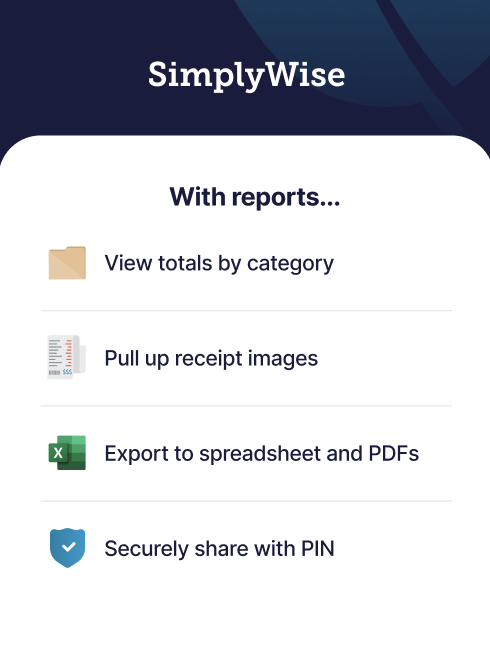 Advanced Security and Privacy
SimplyWise prioritizes the security and privacy of your financial data. The app employs industry-leading encryption and security measures (256-bit encryption – the same level your bank uses!) to ensure that your information is protected at all times. You can rest easy knowing that your sensitive financial data is in safe hands.
SimplyWise streamlines the expense management process. By digitizing and organizing your receipts, providing valuable insights and reporting, and prioritizing security, SimplyWise empowers you to take control of your finances with ease. Say goodbye to the chaos of paper receipts and embrace the simplicity and efficiency of SimplyWise today!
Bills, Receipts, and Paperwork, all in one place
Never lose track of your important documents again