If you find yourself drowning in a sea of paper receipts and struggling to keep track of your expenses, SimplyWise is here to rescue you! As the leading receipt scanner app, SimplyWise is changing the game when it comes to managing your receipts and finances. In this article, we will dive into the pricing of SimplyWise and illustrate the value it can bring to users like you.
Ready to start saving time and money?
Don't let your receipts pile up, try the #1 receipt scanner app today.
Cost-Saving Efficiency
The pricing structure of SimplyWise is designed to offer users an affordable solution while delivering exceptional value. The app offers a range of plans to cater to different needs and budgets, ensuring that everyone can harness the power of this innovative receipt scanner app.
Premium Plans
SimplyWise offers premium plans at an annual subscription rate. These plans unlock additional features and benefits for users looking to reach new heights of efficiency and savings.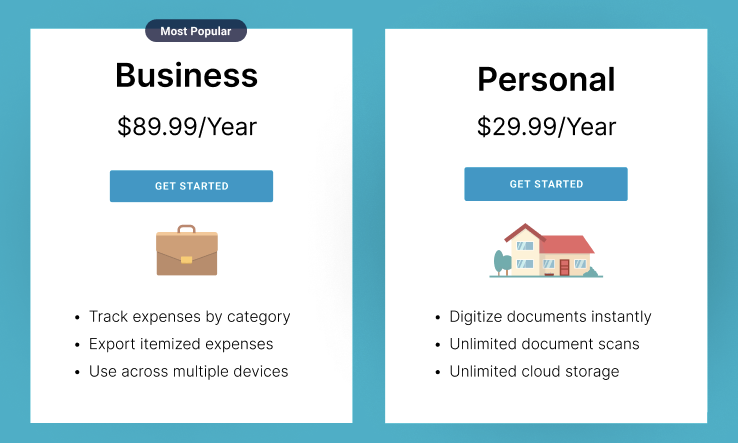 Personal Tier – $29.99/year 
Also called the "Base" plan. With this subscription, you unlock unlimited document uploads as well as unlimited cloud storage with bank-level (256 bit encryption) security.
Business Tier – $89.99/year
The Business (or "Pro") subscription takes efficiency to the next level. In addition to the features of the Personal tier, you unlock account sharing across multiple devices as well as reporting, which allows you to generate comprehensive expense reports, saving you hours of manual data entry and ensuring that your expenses are accurately categorized and organized effortlessly. Reports can be downloaded into an Excel spreadsheet or PDF. 
Both subscription tiers include a 7-day free trial to give users a chance to explore these premium features prior to completing a payment.
Ready to start saving time and money?
Don't let your receipts pile up, try the #1 receipt scanner app today.
Free Plan
For those seeking a budget-friendly option, SimplyWise offers a free plan which provides a great starting point. With this plan, you can scan up to 10 receipts each month and enjoy our top-rated OCR as well as unlimited cloud storage. This is a fantastic option for individuals or small businesses looking to streamline their expense management processes without any commitment. 
Maximum Savings, Minimum Effort
SimplyWise not only saves you time but also helps you maximize your savings potential. By providing an easy and efficient way to track and manage your expenses, SimplyWise helps you identify areas where you can cut costs and optimize your budget.
The intuitive interface of SimplyWise makes it easy to scan, upload, and organize your receipts on the go. No longer will you have to search through stacks of paper receipts or worry about losing valuable expense data. SimplyWise keeps everything in one place, allowing you to access and analyze your receipts with just a few taps on your phone.
Security & Trust
SimplyWise understands the importance of security and privacy, and operates via US-based servers located in Ohio. Your financial data is protected with advanced encryption and bank-level security measures, giving you peace of mind that your information is safe. With SimplyWise, you can confidently store and manage your financial records without compromising security. You can also export your document images out out of the app at any time.
In conclusion, SimplyWise offers an affordable pricing structure that delivers remarkable value. Whether you choose the free plan or opt for one of the premium plan options, you can experience the benefits of increased efficiency, time savings, and financial insights. Say goodbye to the hassle of managing paper receipts and take control of your finances with SimplyWise today.
Ready to start saving time and money?
Don't let your receipts pile up, try the #1 receipt scanner app today.