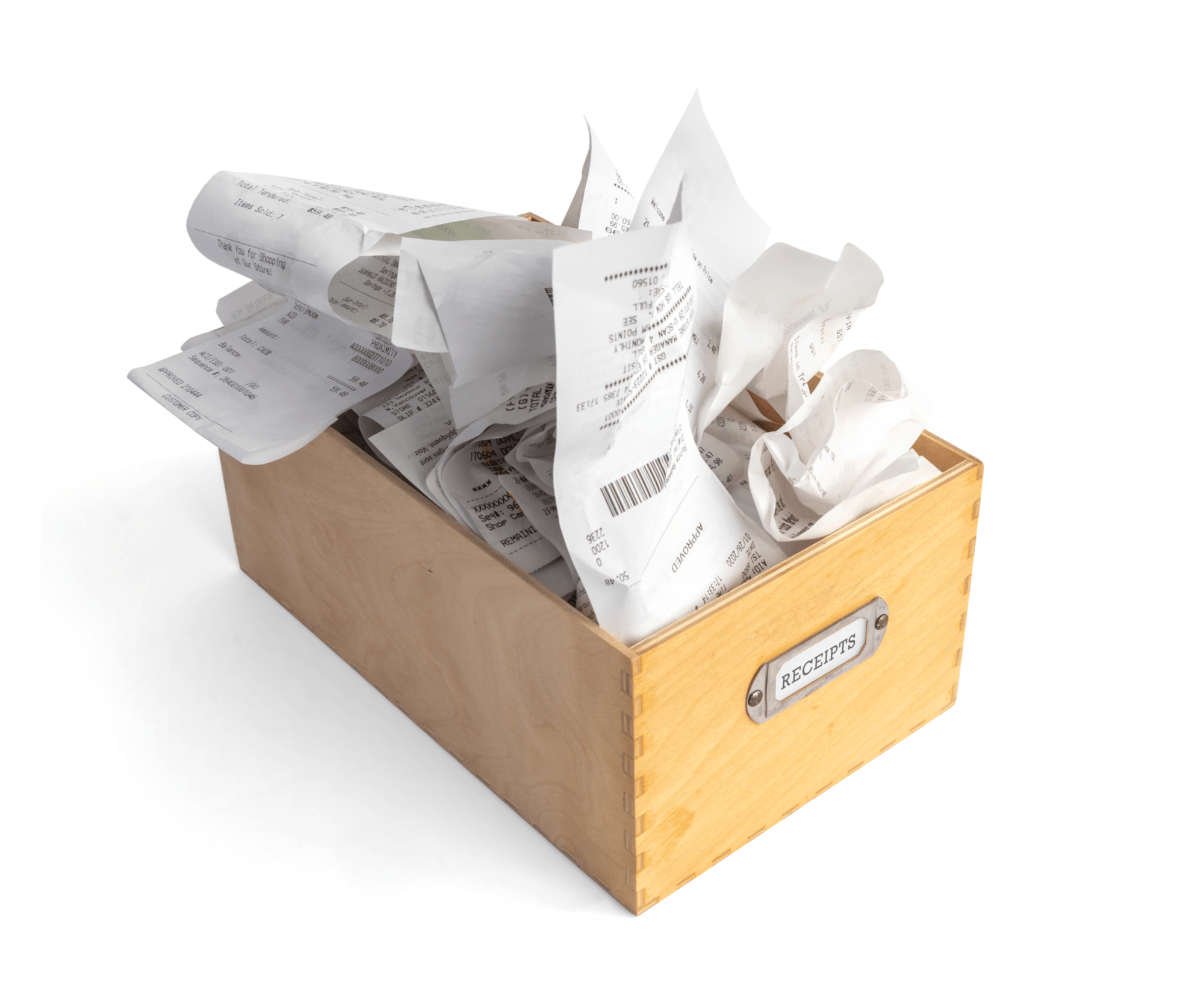 Digitize and organize receipts in 4 seconds!
Never lose track of your important documents again
Tracking personal finances is easier when you have your receipts. You may also need to keep your receipts for tax purposes.
Receipt scanners are one of the easiest ways to eliminate piles of paper and organize your spending habits simultaneously. In today's world of smartphones and apps, actual scanners are a thing of the past. Your smartphone's camera and an app are all you need to get started. However, if you still want to use a scanner and sort the receipts in Excel, you can do that, too.
We break down the 5 best receipt scanner apps for 2021:
1. SimplyWise
2. Smart Receipts
3. Expensify
4. Tiny Scanner 
5. FitFin
#1 SimplyWise 
SimplyWise is a revolutionary app that harnesses the power of Optical Character Recognition (OCR) technology to simplify and streamline the often laborious task of managing receipts.
At its core, SimplyWise is all about efficiency and convenience. With the OCR technology at its heart, the app allows users to snap pictures of receipts, invoices, and other financial documents. Then, like magic, it converts these images into editable text that can be easily categorized and stored electronically, and retrieved and exported out of the app at any time as jpeg/pdf files, or for you spreadsheet lovers, the in-app reporting features compile your data into XLSX/CSV files which can be easily shared with an accountant or tax preparer. 
Along with a video library and long list of FAQs in their in-app Help Center, SimplyWise boasts a world-class, entirely US-based customer support team. These friendly folks are very responsive to user questions and feedback – and unlike many other companies, SimplyWise actually uses that feedback to regularly release updates and improvements.
Whether you're a small business owner tracking expenses or an individual managing personal finances, getting started with SimplyWise is easy and only takes a few minutes.
Download the app on the App Store/Google PlayStore and create an account.
Connect your email, Amazon, Walmart, PayPal, and bank accounts for automated importing (completely optional, but optimizes your experience).
Begin scanning in your documents and categorizing to your custom folders.
Plus, the app's cloud-based storage ensures that your data is secure and accessible from anywhere, so you can bid farewell to the clutter of physical documents and welcome a more organized and efficient financial life. Gone are the days of hunting through shoeboxes or stacks of paper for misplaced receipts!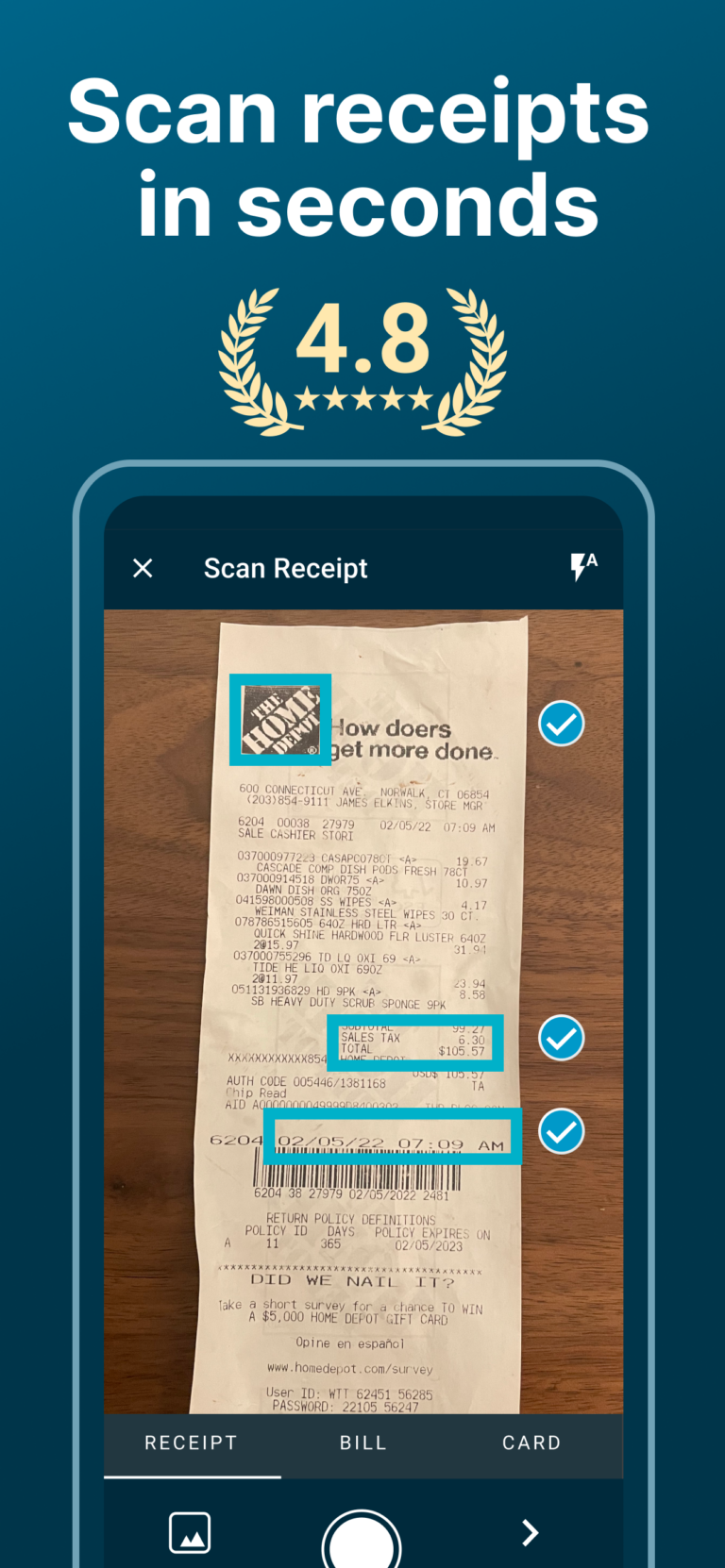 Digitize and organize receipts in 4 seconds!
Never lose track of your important documents again
#2 Smart Receipts
Smart Receipt is a feature-filled app that takes your receipt picture and lets you categorize it and add mileage to it. You can then generate one or more reports from the receipt.
Smart Receipt has an OCR engine that performs text recognition on your scans, helping you search and organize the receipts. Smart Receipt can create a spreadsheet with more than 20 different types of data recognized with fields you identify. 
Start out by creating a report with all the fields you want to include in the report. Snap a picture of your receipt and fill in the fields in the receipt section. Generate your report in PDF, CSV, or zip file.
#3 Expensify
Snap a picture of the receipt and wait while Expensify pulls the pertinent data off. When finished, submit the report. Submitting is the process of emailing the report.When you log in to your account every day, you will be taken to your inbox, where you find any housekeeping that needs to be taken care of by you. Next, you can check your expenses. These are divided into cash, credit, and company credit.
Your reports section shows expense reports that are ready to be submitted have been submitted and approved or are submitted and waiting to be approved. Expensify also allows you to add your bank account information if you are using a corporate version. This option lets you have your reimbursements sent directly to your bank. Expensify is ideal for small and large companies that need receipts and expense reports submitted while on the go and regularly.
#4 Tiny Scanner
Tiny Scanner can read the corners of the receipt or document to pull the entire receipt into the image. This is particularly helpful for receipts that are long (for example, those CVS receipts!) or take up a lot of room. 
You can sort the receipts into multiple folders and share them through email, Google Drive, or DropBox. Tiny Scanner is a fast, convenient way to save the image of the receipt. It also allows you to share the receipts by email, Dropbox, Evernote, OneDrive, and more.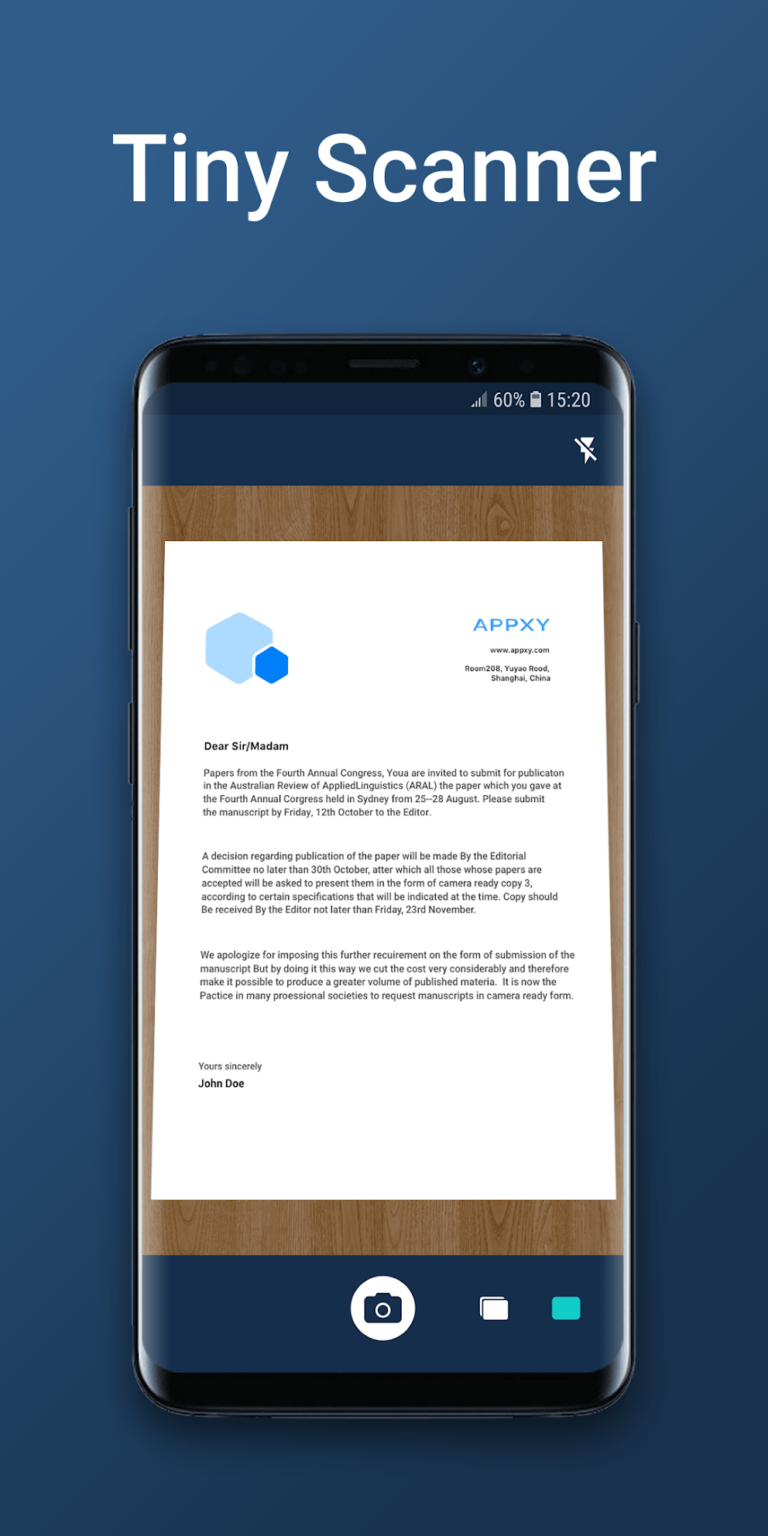 Digitize and organize receipts in 4 seconds!
Never lose track of your important documents again
#5 FitFin
This organizer is a great way to track expenses and stick to a budget. While you can use this for small business expenses, it is a powerful tool for personal finance. Download the app and set your budget for various categories. Save your receipts to the corresponding folder. Track your expenses using your receipts. FitFin allows you to break your receipts down into items so that you can see where every dollar goes in your budget.FitFin allows you to create shopping lists using the information from your receipts. This gives you more control over your spending habits and lets you price-check before you shop.
Using FitFin will give you an overview of your finances, plus predict how much you will spend.
Why A Receipt App?
Why do you need an app for your receipts? If the IRS audits you and you can't produce the receipts to back up your tax deductions, you could wind up paying a hefty fine. The good news is the IRS will accept a photocopy of a receipt as long as it is legible. 
Apps give you a method of storing the receipts that you can't lose, as well as multiple options for analyzing the data on the receipts. 
Takeaways
To find the best receipt scanner app, it's important to choose the app that includes the most necessary features for your purposes. If you aren't tracking mileage, you don't necessarily need one with a mileage feature. However, if you have to track expenses for work  you may want a feature-filled app that ensures you get all of the money you spend out-of-pocket reimbursed. Compare the features and pricing of each and try several before making a decision.
Digitize and organize receipts in 4 seconds!
Never lose track of your important documents again